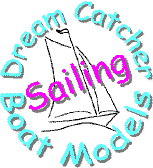 by Simplicity Boats
a division of Creative Life Management
A Celebration
of Traditional Sail...
These pond boats are no longer available for sale.
I've left the pages up to inspire home builders.
A book is in the works with full sized plans.
Experience our fine line of affordable, quality model sailboats that REALLY sail !
All made of top quality materials to last a life time... get a "future heirloom" today. Your grandchildren's kids will thank you!