Simplicity Boats... Featherwind

Nothing quite compares with the pleasure that comes with sailing a boat you made with your own hands. The sweet sound of water gurgling against the hull as you slip the bonds of everyday cares into a world of wind and water and wonder...

Well I finally have a few pictures of Dave Carnell's $200 sailboat a.k.a. Phil Bolger's Featherwind. The maiden voyage was on a full moon eve so no pictures were possible. (my infrared camera being in the shop;~)

Plans now available from Small Boat Forum

| | | |
| --- | --- | --- |
| | Here she is with the Sunfish rig Dave Canell designed her around, and a 113ft polysail balanced lug rig originally designed to go with Phil Bolger's Windsprint. | |
| | |
| --- | --- |
| | Some transom detail. I decided on the arched dory transom complete with sculling hollow (Plans call for a straight line transom.) It actually works well, but is totally blocked by the rudder. I've since seen skiffs with offset sculling hollows that can be used with the rudder in a narrow channel, lacking rowing room. More on the rudder below. |
| | |
| --- | --- |
| | Another oversight was the interplay of the rudder tiller and transom. The rudder head isn't high enough to get much of a downward angle to the tiller. (Tiller tends to scrape the top of the transom.) The tiller extension minimizes this problem, but a lower transom or one of those sweet curved laminated tillers might be better. |
| | |
| --- | --- |
| | Julie and Kayla again. Lot's of rocker in this boat, the results is the transom rarely touches the water even fully loaded. The wake is almost nonexistent... leaving the water almost right where you found it. |
| | |
| --- | --- |
| | I'm still tweaking the boat some. I've added a handle to the leeboard with a lanyard to pull it down when it pop's up. Unwilling to let the friction bearing surfaces be painted wood, I've experimented with polyethylene (I think that's what it is, it's from the lids to Rubbermaid containers.) the action is smooth, but it's almost not possible to get adequate friction. I'm considering a 1/4" dowel shear peg that would go through the gunwale into the leeboard to keep it locked in the down position, but would break if I accidentally grounded. I'll keep you posted. |
The tiller and extension (left) are both cedar connected by a simple ball bungee cord.

Hard rubber tiller stop (right) prevents hitting the top of the transom.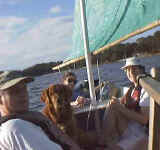 Here's she is with a full crew of 4 adults and 2 dogs! (Skipper's behind the camera)

I couldn't resist attempting a balanced lug sail after seeing Jim Michalak's wonderful information on sail making. Jim may have done more for demystifying boat designing and building than about anyone I know. He offers a series of newsletters on all aspects of small boat design and building. I'm grateful to Herb McLeod for introducing me to him.

Here I have a pile of building photos that might be of interest to builders or aspiring builders.
Here's a patriotic version of Featherwind done tack and tape, on Richard's Boat Page. Also some good building pics.